Make Online Calls for Free. A browser based video calling website. Free Call Me!
Free Call Me is a free web based calling service offering two types of web browser based video calls alongside simple text messaging. Free Call Me makes it possible to make a call online from a computer. You can make a "Private Call" connecting to one person at a time or you can make a "Group Call" which allows you to hold an online video conference call for up to 20 people at a time, without registration. Free Call Me makes it easy to connect with your family, friends and colleagues via video or text chat.
Our service operates as an online web browser based calling system which means you can make calls to and from any device, desktop, mobile or tablet. We recommend Chrome browser although fully tested and functioning in all other major browsers including Firefox, Safari and Edge. All you need to make an online call is an internet connection and a web browser.
Private Call
A Private Call offers a one to one online video call where two people can connect to each other and communicate through video and text messaging. Share photos and documents up to 10MB in size. You can invite as many people as you wish to your private online call, however, you are only able to chat with one person at a time. Only the person you are currently calling can view your video and text messages.
When you visit the "Private Call" page you will be given a unique link. Send that link to the person you wish to call. When they click that link their name will appear in the call as seen below:

You can choose to send a text message, video call or voice call. When you click the selected call type, that person will receive a popup box to answer or reject your call, as seen below: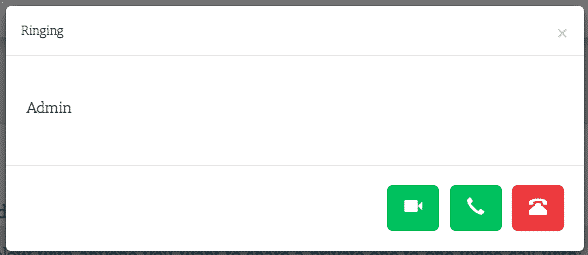 They can then choose to connect to you via video or voice call and so the call will commence as soon as a button is clicked.
Group Call
A Group Call works in the same way as a video conference call. It is different to a Private Call as people can simply join in the call at any time via clicking your link, entering the call directly without the need to press a call button.
Every member of your group call can view other members videos and text messages in a conference style call. A group call holds upto 20 chatters at any time. Simply send your unique link to people that you would like to join your group call. As soon as they click it, they will enter the conference call.
Data Privacy
All calls connect using WebRTC on a peer to peer platform. We do not record or store any of your data on our servers. Connections are made directly between callers using secure SSL. For more information on cookies and what data our website requires, you can read our privacy policy.
What makes Free Call Me different to other online web call service?
There are many browser based online free call websites and services offering a different variety of calling functions. There is also an abundance of messaging apps offering plain text messaging and video conference calls. Some are free and some offer premium features. What we wanted to do was make it really simple to start an online video call or create a web based video conference. We don't offer premium features, we just offer two buttons "Private Call" and "Group Call". We wanted to offer our visitors a way to create a video conference room with one click and that has been achieved.
We use WebRCT peer to peer connections so we don't have to rely on our own server resources. All communication is done "browser to browser". Higher speed internet users will have higher quality video streams and less lag. Your device and internet speed will determine the quality of each free web call you make. No matter how many people use our service it will not overload our resources. You can rest assured that calls will be uninterrupted.
Added to the video calling is the ability to share photos and documents of upto 10MB in size. (This feature is available in private one to one calls only.)
Use one of the buttons below to create a video call in one click: